Lock the keypad of your device Macbook may sometimes be necessary, although it is not always clear how to do this. Yet it is very simple. This article gives you the keys so you can block, verrouiller, deactivate your macbook keyboard (for cleaning reasons for example). It should be noted that although most mobile phones have a keypad lock option (to prevent accidental calls or unwanted text messages), this is not the case for them. Macbooks. If you are using a Macbook device, then you do not have the option to disable or block the keyboard through a program included in OSX. You will need to use free software (called a keyboard stripper) in order to temporarily disable your keyboard. Thus, in this article you will find keyboard cleaning applications to download, such as Keyboard Cleaner for example. In addition, We also give you the method to follow to lock your Macbook via the classic method (the drop-down menu Apple your Apple device), or by using shortcuts in order to lock your device more easily and quickly Macbook. Good reading !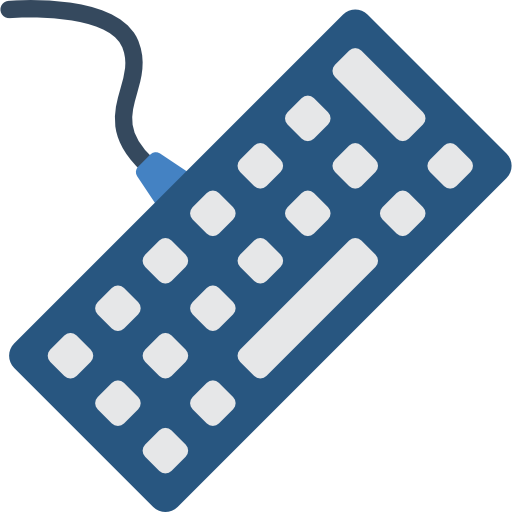 Clean the keyboard of your Macbook without pressing the keyboard keys: lock the keyboard
There is no specific mac keypad lock key in order to get a Macbook Air or Macbook Pro locked. To avoid pressing keys on the keyboard while washing the keyboard, you can either turn off your Macbook, or download an application. Of course, this kind of application will be useful for people using a laptop (Macbook Air, Macbook Pro…).
theapplication Keyboard cleaner, the best keyboard clean tool on the market
keyboard cleaner Mac is an application that can be very useful when you want to clean your computer keyboard. Keyboard Cleaner made sure to disable your Macbook keyboard during cleaning and that you do not delete or modify any element contained in your Macbook inadvertently, by pressing keyboard keys for example. This application will have a function bouclier for your desktop with de Macbook and will block any keystrokes that you might accidentally press during the cleaning session of your Macbook. Once the cleaning operation is complete, you can unlock your Mac keyboard.
The Little fingers application to block typing on the keyboard
little fingers is a software allowing to bmomentarily stop typing on the keyboard of your Apple device, but not only: it also blocks the click of the Trackpad or any action on the Touch Bar if your Mac has one. This application is ideal for moments such as cleaning, watching a movie, the time of a Zoom video conference or a Face Time call.
You will need to use a keyboard shortcut in order to deactivate ou reactivate control of keyboard or Trackpad. You must first ensure that you have checked the option " Launch Little Fingers at Login So that the program starts automatically each time you start your Mac, then use the following key combination: Shift key + Control key + Command key + L key.
How to lock and unlock your Macbook?
Now that you know how lock keypad from your Apple device, here are the different ways to lock your Macbook Pro or Macbook Air.
The classic way to lock your Macbook
You can verrouiller your Apple Macbook device by scrolling down the menu Apple (the little black apple located at the top left of your screen). At this time, you can click Lock screen.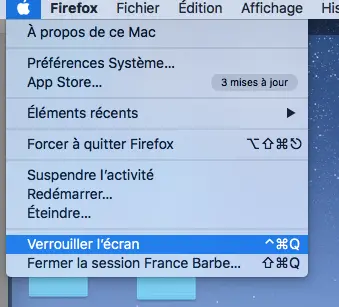 Your device Macbook is now " locked " (Locked). If you want to unlock it, all you have to do is enter your user password.
Creating a keyboard shortcut to lock your Macbook
You can lock your Mac with a keyboard shortcut. As seen previously in this article, it is possible to lock your Macbook screen directly via the drop-down menu Apple. It is also possible to lock your Macbook using a combination of different keys on the keyboard. here is keyboard combination to lock your Macbook:
Control key + Command key + Q key
Lock your Mac using an app
You will find a multitude of applications (Lock Me Now for example) which will allow you to lock your Macbook. The icon will be installed in the Mac menu bar. You will just have to click on this icon to lock your Macbook device.
Lock a Macbook automatically
You will have to click on the menu Apple (the little black apple at the top left of your screen) then select System Preferences. You can now click on the icon Security and confidentiality, to finish by selecting the tab General. You just have to unlock the padlock which is at the bottom left. Your user or administrator password is required. You can then schedule a duration to lock your Macbook screen.
Lock your Macbook with the Touch Bar
If you have the touch Bar on your Macbook Pro, just tap on the padlock icon and the screen will lock. Nothing's easier !
How to Automatically Unlock a Macbook Using an iPhone or Apple Watch
You can unlock your Macbook automatically through other devices Apple such asiPhone or Apple Watch for example. The use of an electronic key can also have this function. The application near Lock will allow you to lock and unlock your Macbook: when you are not near your Apple device, your Macbook will automatically lock. As soon as you get closer to your device, it will unlock. Convenient !